Welcome to the next instalment in my #DIYDaysInKorea series. These #DIYDaysInKorea posts are about making beautiful things for your home (whether that home is in South Korea or South Africa, or any where else in the world).
If you are based here in Korea and would like to join one of my DIY days (we had our first official meet up a few weeks ago and it was such fun...click here to see what went on) you can pop on over to the Facebook group for more information.
I hope you enjoy this series and that you leave feeling inspired.
x
DIY Painted Vase & Flower Arrangement
Myself and my very talented friend Storm, who moonlights as a stylist & florist, had some time on our hands and found this pretty cheap glass vase at our local Daiso here in Korea. Storm straight away had an idea to repurpose it with a lick of paint, and off we went on a scavenger hunt for flowers around our neighbourhood.
Today Storm is going to show you how to arrange your own flowers in such a way that they look beautiful, artsy and, expensive.
What You Need
glass vase or something you can turn into a vase such as a glass, bowl etc (does not need to be expensive or fancy)
spray paint
flowers, bought or foraged from the garden or sidewalk
Directions
Easy peasy lay some newspaper down and spray the outside of the vase (I would omit spraying the inside as it was in fact unnecessary) wait to dry and get creative.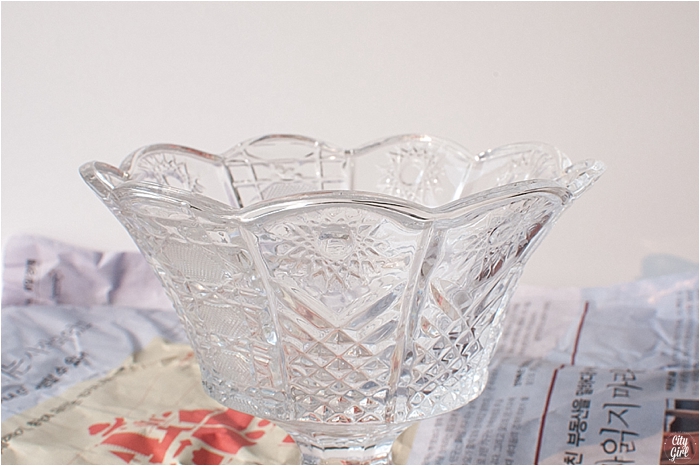 Place sticky tape in a grid formation to help give the flowers shape and volume. It also gives the foliage more structure and keeps the flowers in place.
Get creative with your flowers and make an arrangement from the heart. You can't go wrong with flowers, start with your foliage (the green leaves and other bits of non blooming elements) then your focal flowers (the big ones) at the base and go from there.
And there you have it, your own beautiful floral creation, without the price tag of a fancy florist.
If you create your own arrangement, please tag me in your photograph (twitter: @roxyhutton Instagram: @roxyhutton Facebook @CityGirlSearching) I'd love to see what you create.
Happy DIYing and flower arranging!