I didn't know much about Gamcheon Art Village except for having seen images of multicoloured house dotting a hillside in Busan. Armed with the knowledge of how to get there, and that it would be a very different experience to most festivals and temples in Korea, I set off in search of the village with a group of adventure loving friends.
Here is a little more on the history of the Art Village as written by Jessica Steele for the BusanHaps Website (all images are my own):
"Gamcheon has long been home to the city's poorest residents. In the 1940s, only 20 or so houses dotted the hillside, but that number swelled dramatically at the beginning of the Korean War in 1950. War refugees fled their homes for the relative safety of Busan, the only area of the peninsula that remained free from fighting. Within a year, Busan's population grew from 880,000 to 1.4 million people, and a half million homeless refugees needed a place to live–and fast. Approximately 4,000 people moved from the crowded port areas surrounding the Jagalchi Fish Market to nearby Gamcheon, erecting some 800 makeshift homes using scrap iron, wood and rocks.
Those shanty homes were built up into the brick-and-concrete Lego-like houses that you see today partially thanks to a man named Chol-je Cho. Cho founded Taegukdo, a religion that believes that the Taeguk, or yin and yang symbol, represents the true meaning of life and the universe. Practicing again after persecution and suppression during the Japanese occupation, Cho and his followers converted nearly 90 percent of the refugees living in Gamcheon with their gifts of rice and candy. With this help, residents were then able to funnel their earnings into rebuilding, and in 1955 the area became known as the Taeguk Village when Cho moved the religion's headquarters there.

Although better established by the 1990s, Gamcheon and the Taeguk Village remained poorer than the rest of Busan, which busied itself by erecting skyscrapers and high-rises. In 2009, the Ministry of Culture, Sports, and Tourism stepped in with the Dreaming of Machu Picchu in Busan project. Reparations were made, artists were hired to paint murals and 10 artworks were installed, some created with the assistance of the residents. In 2010 the follow-up Miro Miro project saw the addition of 12 more works, including alley paintings and path markers perfectly suited to the project as miro means 'maze' in Korean. These days, visitors can see trick art, sculpture, and even rooms or buildings remodeled around a singular art concept, such as the Book Cafe shaped like a giant coffee mug, or rooms interpreting themes such as 'peace' or 'darkness'.
While the village's remaining 10,000 residents are now used to the influx of tourists, photographers and filmmakers, they are still wary of them, and many do not care to be the subject of photos. The village is open from 9:00 to 5:00, and is free of charge. For more information, and to buy the illustrated souvenir tourist map, you can head to the village's Haneul Maru Tourist Information Center and Observatory, where you'll also get a great view of the city".
When we arrived we headed straight for the tourist help centre and bought one of the super cool Gamcheon Village maps. There is a blank page inside the map for you to collect stamps that are hidden inside some of the art rooms. This made our walk into a sort of treasure hunt adventure and was lots of fun. My tip to the art village was one of the highlights so far of my 3 year stay in Korea and I highly recommend visiting it. Perhaps in Spring or Autumn when it's not so cold and try head there for early morning or late afternoon when the light isn't as harsh for photographs.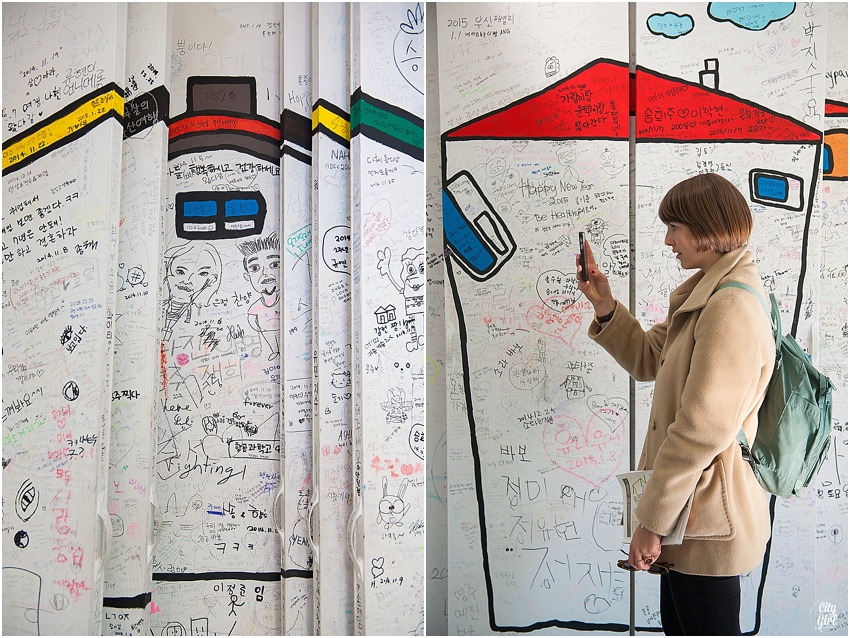 Directions
Take

Subway Line 1

(accessible from Busan Station) to Toseong Station.
Come out at Exit 6.
You will be facing an intersection.

Turn right

at the corner and walk straight. You will see a hospital on your right. The bus stop is right in front of the hospital.
Take either Bus 2 or 2-2 (W800 pp)
This will take you to Gamcheon Culture Village at top of the hill.