As with every other thing I have bought here in South Korea, the skin care products are packaged beautifully. Even the biscuits are individually wrapped here (a nightmare for the rubbish dumps ~ although recycling here is top notch). I was really good about not packing too many products for our move here. I 'held' back and only brought the bare minimum (a post on the 'bare minimum' to follow soon) and so was eager to try a new skin care range once we settled in.
My absolute favorite brand of cosmetics/skin care here in Korea is The Faceshop. I buy all my nail polishes there, as well as my concealer. They are currently having a massive sale in all stores (here in Korea...sorry everyone else!). I picked up a toner, moisturizer and 'oil free' setting gel. Mmm, setting gel? I hadn't heard of that before either, but I will explain here.
Chia seeds are becoming one of the biggest so-called super foods on the market. They are rich in omega-3 fatty acids and high in antioxidants, protein and fiber.I was unaware of these seeds seeing these products, and after all the research I've been doing, I'm on the hunt for them to ass to my cereal and smoothies in the morning.
Chai Seed Watery Toner
"A moisturising toner for hydrating inside the skin with organically grown chai seed"
I just love that description, for
inside the skin
as opposed to outside the skin :) Anyway, I use this after cleansing my skin, and either apply it with cotton wool, or using my hands straight onto the skin. Its light, removes makeup and oil from my skin, and leaves a light, summery fragrance that I can't quite put my finger on. Either way, its lovely and refreshing.
The back of the box describes this product as "a natural moisture drop absorbing moisture 10 times its own weight" how cute :)
Chai Seed Watery Lotion
A light, easily absorbed moisturizing lotion, perfect for hot summer days (and the 100% humidity here in Korea. Easy to blend into the skin, my oily/combination skin, and interestingly enough, I have been told that oily/combination skin still needs constant hydration. This lotion is light, doesn't leave my skin feeling sticky afterwards, and does a good job with maintaining a mate appearance for the first few hours of the day. It has been doing a much better job of reducing shine, while still moisturizing my skin, than my IQ Clear Start Oil Free Clearing moisturizer which really battled in the Korean humidity. I was left looking like an oily mess by 10 o'clock. I don' think this lotion will be enough when winter comes around though, but by then I'm sure I'll be on the lookout for something new anyway.
Chai Seed Sebum Control Moisture Control
"A moisture cream that replenishes skin with moisture while preventing excess sebum
Uses good seeds and good technology that make the extracts fresh and is also good for the environment
A clear, mild cream
Real oil-zero
Uses 100% chia seed extract instead of water"
Well that just sounds amazing right?! This clear gel is refreshing, and when worn alone leaves my skin shine free for just about the whole day. When worn with my foundation, my skin tends to shine up on my T-zone area. I usually carry my MAC Studio Fix powder to zap the shine in its tracks. But when worn without any foundation, my skin stays shine free all day...wonderful! Again, I love the product description on the packaging. Applying a gel is quite a different experince, and in the heat here, a very welcome one. My face feels refreshed, radiant and supple. And in true Korean style, you cant possible only 1 lotion type product. The trick (and they do have incredible skin and NEVER look their age) is to use all 8 steps in the range of products. I starting with 4.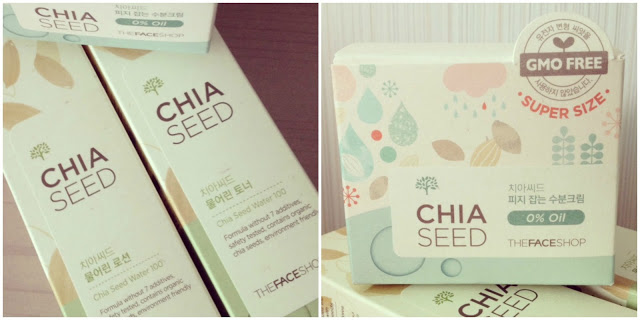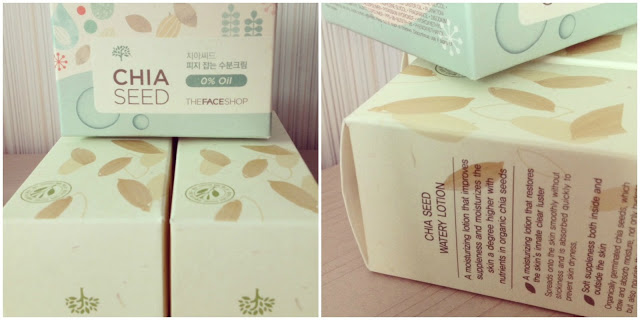 Overall I have been thrilled with my purchases, all coming to W43 000 (R380) on sale at the FaceShop.
I'm after the Essence & Eye cream next.
Have you ever tried any Asian/Korean skin brands before?
{South Korea & Japan were the home to BB creams before the trend hit South African soil..these Koreans know their stuff when it comes to skincare and makeup!}