Farmboy and I headed to Bali for 12 days in July last year. We had a wonderful time, and it was one of our favourite holidays we have been on so far. I seem to say this after every holiday, probably because we are finally starting to actually learn from out mistakes, making each trip that much better. You may be thinking of heading there soon (or sometime in the future) so to help you plan your trip, I have put together a rough budget, as well as some tips from our stay. Please keep in mind that my husband and I may travel very differently to you, and have different likes and preferences for things. I prefer the more luxurious path, while Farmboy would stay in a hammock for the entire trip if it was up to him. So we plan accordingly, and of course, try to stick to the budget.
We didn't find Bali as cheap as some of the other countries we have visited (Vietnam, for example) but that is mainly due to the fact that Bali's whole economy is based on tourism. Bali is the largest tourist destination in the world, and is renowned for its highly developed arts, including traditional and modern dance, sculpture, painting, leather, metalworking, and music. They have been a tourist destination for a very long time, this has it's pros and cons as I will explain later. Bearing this in mind our trip budget was different to Vietnam and Malaysia. Another thing is that my mom was supposed to be joining us on this trip, and so come of our accommodation choices were very different to what we usually book. She had to cancel her trip at the last minute and as most of the accommodation was non refundable, we just decided to enjoy the slightly pricier places we had originally booked.
We were in Bali for 12 days exploring mainly the Centre of Bali & the East Coast:
6 nights in Ubud (first 4 nights & last 2 nights)
5 nights on the Gili Islands
This post is focused on Ubud, and the second guide I will post soon will be of The Gili Islands.
UBUD - Central Bali
Ubud is the cultural capital of Bali, where you will find anything from yoga studios, to french cuisine, artisan jewellery to unique hand crafted furniture. Here is a list of the things we did during out first 4 and last 2 days in Bali.
Accommodation in Ubud
Upon arrival into Ubud, we were collected at midnight by the owner of our villa (Dewa, the most incredibly humble, open minded and knowledgeable man we have ever met) who is also a driver and tour guide. We didn't know anything about drivers or the fact that we might need one until we met him, and he didn't pressure us to book him for any tours at all. We spent the first 4 days in the home he has built for guests (click here to see more about booking this incredible place). Although the villa is on the same property as his family home, there is complete privacy and we only noticed the presence of people when we would find little offerings places around the bottom of the house.
*Peaceful Villa just outside Ubud $89 a night (suitable for 4 people). Click here to book.
If you would like to get in contact with Dewa for a tour or to book his villa directly, click here and scroll down to the button that says 'contact host'. Dewa also helped us book fast boats to get to the Gili Islands and was just so helpful. I can't recommend him enough!
For our last 2 nights we decided to stay somewhere really special and spent two nights at Villa Awang Awang is the smallest of their villas, Villa Pererepan. It was incredible and one of the highlights of our stay. It was our most expensive accommodation, $150 a night but worth every cent. We had a private pool, breakfast was included and served to us on a private balcony over looking the forest canopy below. The bathroom was half outdoor and was the perfect place to relax after a busy day of sightseeing. Click here to find out more about Villa Awang Awang.
Offerings
The majority of the people in Bali follow Balinese Hinduism, which is a combination of existing local beliefs and Hindu influences from mainland Southeast Asia and South Asia. Balinese Hinduism has roots in Indian Hinduism and Buddhism, and adopted the animistic traditions of the indigenous people. This influence strengthened the belief that the gods and goddesses are present in all things. Every element of nature, therefore, possesses its own power, which reflects the power of the gods. A rock, tree, dagger, or woven cloth is a potential home for spirits whose energy can be directed for good or evil. Balinese Hinduism is deeply interwoven with art and ritual. As you drive along the narrow roads, you will see many parts of temples and trees covered in cloth. This is a marker to show that spirits reside within.
Every morning, usually before most tourists have even been rustled from sleep, the people of Bali are out sweeping the streets of the previous days offerings. Once swept the streets are once again ready for the daily gifts or offerings laid out to appease the various Gods & Daemons Of Balinese Hinduism.
Things to do in Ubud
Ubud has a very laid back atmosphere, even though there are a lot of tourists. It has become especially popular since the Eat, Pray Love was filmed there. Many people from allover the world come to practice yoga, and recharge their bodies, minds and souls. There are all kinds of restaurants and things to do in and around Ubud. We visited the Monkey Forest, did a cooking course, toured the surrounding craft villages, did a coffee plantation tour, visited temples, did a market tour and spent time wondering around the town.
Ubud Monkey Forest
We spent an afternoon wondering around the Monkey Forest,which was a really fun experience. It was quite scary at times as the monkeys can get quite aggressive around their young.
Ubud Cooking Course
Just like Vietnam, we did a cooking course and just loved it. Doing a cooking course really helps to get a real feel for the food of the country, and we learnt a lot about Balinese culture from our wonderful host. Click here for details on the cooking course we did.
Ubud Industry Tour
All around Ubud there are pockets of villages that specialise in diffferent crafts. We visited a silver & gold factory, a Batik warehouse, bone crafters, and wood craftsmen.
Market Tour
We were taken on a market tour during our cooking course with Paon Cooking School. We love doing market tours as often we have no idea what half of the herbs, spices and vegetables are and our guide explained how to eat the local fruit. This was one of the highlights of Ubud for us.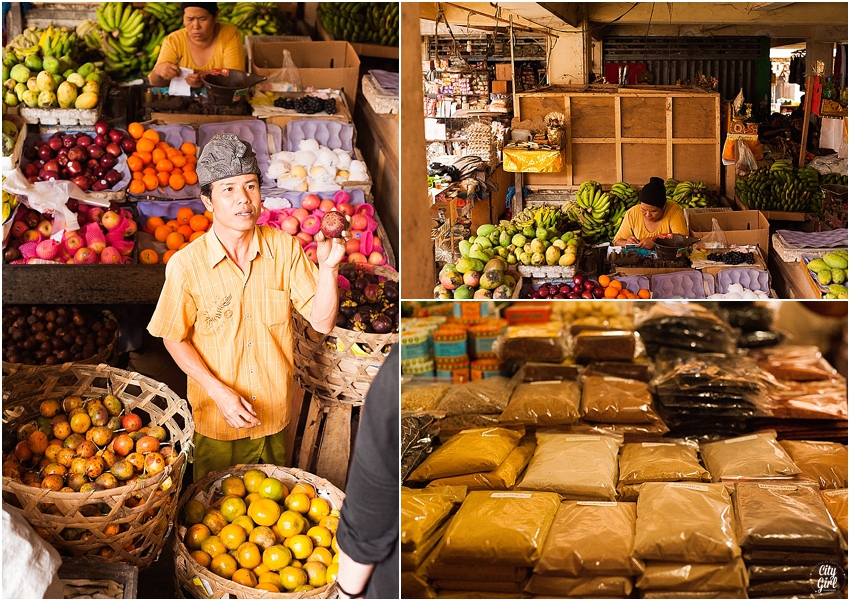 Temple Visits
We visited 4 temples and their surrounding areas around Ubud; Elephant Cave ( Goa Gajah), Pura Tirta Empul (holy waters) and Tegallalang Rice Terraces & Gunung Kawi.
Ubud Coffee Plantations Tour
Our villa host and tour guide, Dewa, took us on a tour of one of the local coffee plantations. We even got to try the infamous Luwak Coffee or Kopi Luwak. Kopi Luwak refers to the seeds of coffee berries once they have been eaten and defecated by the Asian palm civet. Sounds pretty terrible, and to be honest we weren't blown away by the taste. It tasted like regular coffee to us, but is known to be one of the most expensive coffees in the world. The tour also included a tasting of various teas and other coffees available to buy.
Volcano Tour & Lunch in Rice Paddy Village
We also did a very short drive to see the view of Kintamani Volcano which is still very much active. We didn't do the tour around the base of the volcano, but the views were gorgeous from one of the rest stop. We then had lunch at one of the rice paddy villages which had gorgeous views too.
We really enjoyed our first few days in Udub, but by the 4th day we were ready to head away from the crowds and on to the beach. I will be posting a guide to the Gili Islands soon!
In the mean time, here is a video Farmboy put together of our trip, enjoy!
If you would like to get in contact with Dewa for a tour or to book his villa directly, click here and scroll down to the button that says 'contact host'. Dewa also helped us book fast boats to get to the Gili Islands and was just so helpful. I can't recommend him enough!